High Pressure Atomizing Humidification "itsumo"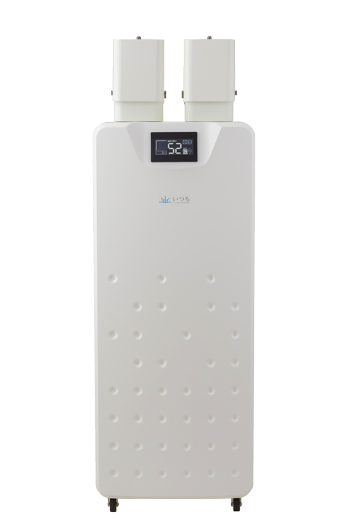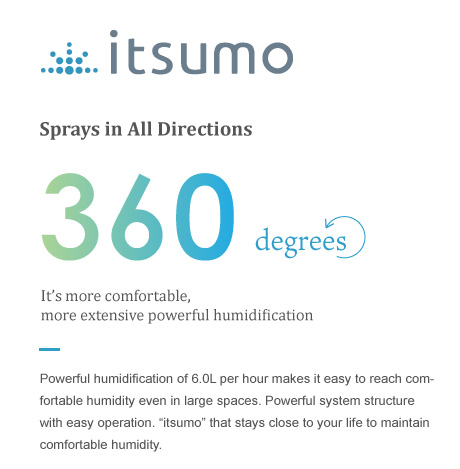 Product Introduction
High pressure atomizing humidification "itsumo" was developed from the perspective of users. This portable system combines "temperature control, timer control, intermittent function, energy saving performance" which were designed based on technology of a commercial humidification system manufacturer. Humidification with mist is effective as a prevention of viruses such as influenza that prevail every year. It can be installed in various places such as large offices, hospitals, facilities for the elderly, sports gyms, entrance halls and multipurpose facilities.
 Our lives have been greatly affected by COVID-19. Acid hypochlorous water has been confirmed the inactivating effect against many viruses such as seasonal influenza, norovirus and O-157 by various institutions. There are pros and cons about usage of acid hypochlorous water and caution is being given but, we believe that it can be a "strong ally in the Corona era" if government guidelines are followed and if it is used safely.
 We recommend "space sterilization of unmanned space" according to guidelines of the Japanese government. "itsumo" can be operated unmanned. Repeat spraying and pausing at arbitrary intervals to circulate mist in the space, and a large amount of fine water droplets can be spread to every corner even in a wide area without wetting the floor with the mist. In addition, we recommend using electrolyzed slightly acid hypochlorous water for space sterilization. Check with SDS of your acid hypochlorous water before using.
 Note: Cosmotech has carried out a spray test with electrolyzed slightly acidic hypochlorous water (30ppm) but, we do not sell acidic hypochlorous water.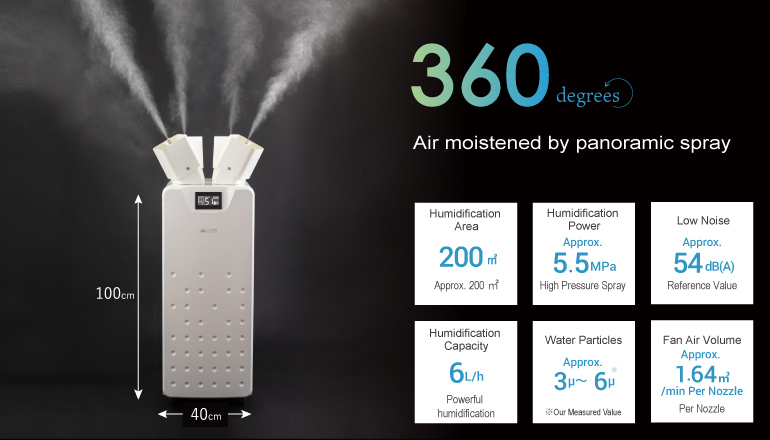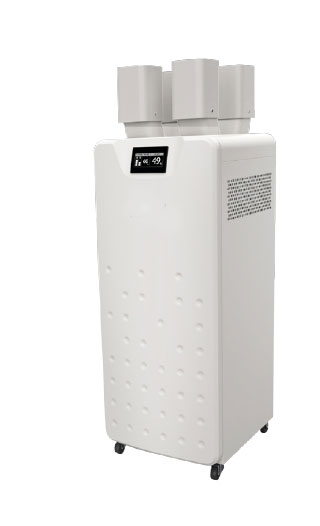 Spray 360 Degrees in All Directions


Each of the four nozzles can be adjusted up and down 45 degrees and left and right 135 degrees. A 360-degree range is sprayed with the four nozzles to firmly humidify a large space.

3.8型タッチパネル


湿度表示・時間表示が見やすく、操作の簡単な3.8型タッチパネルの採用でストレスフリーにお使いいただけます。

Easy-to-carry Water Tanks (Two 10L Tanks)


Two 10L tanks are built in, which are easy to carry. The total tank capacity is 20L, which is a large capacity compared to general humidification system. Since it can be operated with one tank, spraying can be continued without stopping the operation.

Intermittent Operation Function


The spray start/pause interval can be set by the user. By performing intermittent operation while maintaining the required humidity, circulate mist in the space and keep the minimum energy consumption.(噴霧・停止それぞれ10秒~90秒の設定が可能)

No Filter, No Bad Smell


It has a structure that does not require a filter. Therefore, no need for troublesome filter cleaning but only regular water tank, and annual nozzle cleaning.

Simple Design


Despite its large capacity, it is a compact design with a width of 40cm. The stylish body has casters that can be placed anywhere.

Space Sterilization by Spraying Sterilized Water


It can also spray slightly acidic electrolyzed water. "Space sterilization" can be performed by putting it in the tanks. Inside of the system is kept clean with regular sterilization water spray.

Wide humidification with
The direction of spray can be freely adjusted 360 degrees.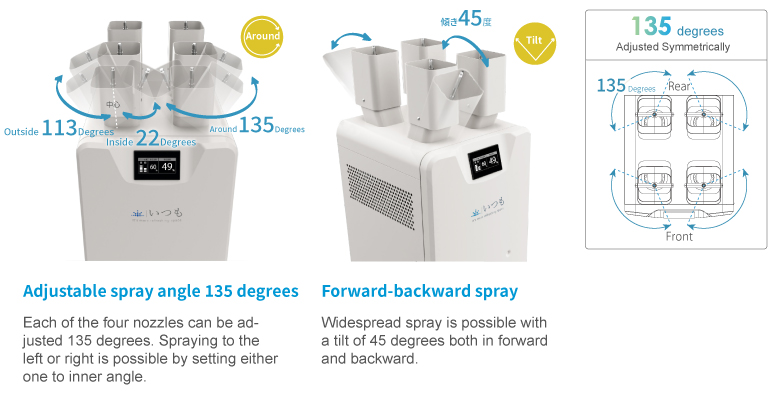 Product Specification
Designation

High Pressure Atomizing Humidification "itsumo"

Continuous Operation

Approx. 6.5 Hours*1

Model

HI-06

Control Method

Humidity Setting (2~99%Rh)

Humidification Capacity

6L/H
Timer Setting (60 min./ 120 min./ 240 min./ 480 min./ Continuous)

Humidification Area

Approx. 200㎡

Power Supply

AC100V(50/60Hz)

Power Consumption

Approx. 61W

External Dimensions

W400×D450×H1000

Humidity Detection

Semiconductor Type Humidity Sensor

Operation Panel 

 3.8-inch Touch Panel
※1 Estimated time when the tanks are full and rate of operation is 50%.
※Specifications are subject to change without notice.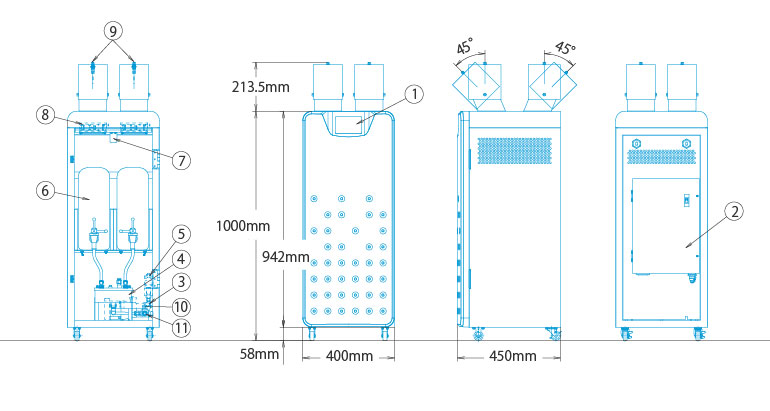 ①Operation Panel ②Control Method ③High Pressure Pump ④Storage Tank ⑤Pressure Release Solenoid Valve ⑥Water Tank ⑦Humidity Sensor ⑧Blowing Fan (DC24V) ⑨Spray Nozzle (1.5L/L) ⑩Water Supply Side Air Bleeding/ Storage Tank Drain Valve ⑪Drain (Outer Diameter φ10 Tube Connection)
Effective use of istumo
For space sterilization in unmanned space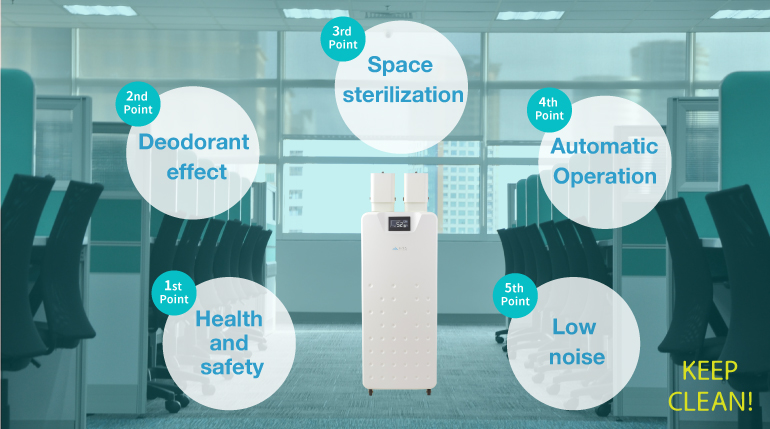 itsumo is a humidification system that can spray acidic hypochlorous water
---

Based on verification results of National Institute of Technology and Evaluation (NITE) and Ministry of Economy, Trade and Industry, Cosmotech suggests space sterilization in unmanned space. The mist to the space can secure the sufficient amount which is necessary for sterilization by arbitrary time setting. Also, for spray liquid, we recommend to use slightly acidic hypochlorous water (electrolytic solution and pH5-pH6.5 ) which is approved as a food additive by the Ministry of Health, Labor and Welfare.
Note) "Acid hypochlorous water" and "sodium hypochlorite water" are completely different. Never spray the sodium hypochlorite water, as it may endanger human health.