Spray Powder Extractor
Many of offset printing sprays spray powder on sheet, in order to prevent the set-off of printed sheet. But since powder is very fine-grained and light, powder flies apart and it leads to worsening of working environment. It is possible to have these problems solved and to maintain clean environment by adopting a spray powder extractor.
Product Lineup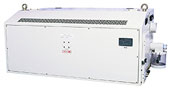 SWEETER Z
The spray powder extractor "SWEETER Z" performs efficient dust collecting with an integral-molding type filter.