SWEETER Z SMT-131/ 232/ 333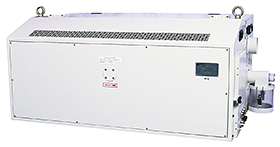 The spray powder extractor "SWEETER Z" performs efficient dust collecting with an integral-molding type filter. The caught powder is recovered by the "automatic brush off mechanism" to a dust pot.

Features
The compact design installed to the delivery upper part
An integral-molding type filter realizes efficient dust collecting.
With "automatic brush off mechanism" which discards automatically the powder attached to the filter
The caught powder is collected to a dust pot, and the dust can be discharged easily only by removing the clip of a dust pot.
The suction capability of powder can be easily adjusted in the wind amount adjustment lever.
Interlocking operation with a printing machine is possible by an external signal.
Specifications
Name
Spray Powder Extractor SWEETER Z
Model
SMT-131
SMT-232
SMT-333
Adaptable Presses
26"/ 29" & 32"
40" & 44"
50"
Power Supply
3-Phase 200V (50/60Hz)
Motor
1.5KW
2.2KW
1.5KW×2
Operation Method
Manual Operation/ Automatic Operation Change-over
Dust pot capacity
Approx. 2L
Dust pot capacity
1
1
2
Filter Area
Approx. 4m2
Approx. 5.5m2
Approx. 8m2
Dimensions (mm)
1205W×790D×580H
1515W×790D×580H
1855W×890D×580H
Weight
Approx. 140kg
Approx. 160kg
Approx. 210kg