Dampening Solution Recirculation System
The printing method of offset printing uses rebounding of ink and water, and the water used is called dampening solution. Thermal management and ingredient management are very important for this dampening solution, and it also affects printing quality. A dampening solution recirculation system is the equipment which keeps ingredient and temperature of dampening solution constant in order to perform high-quality printing, and circulates dampening solution to a printing press.
Product Lineup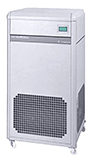 TOP-ONE ECO Series
TOP-ONE ECO keeps constant a chemical fluid (etch solution and IPA) required for dampening solution, and circulates the dampening solution to a printing machine. According to a customer's printing machine specification, we have various product range as 1.65kW ~ 3.54kW of cooling capacity.