UruOs-50 Industrial High Pressure Atomizing Humidification
Features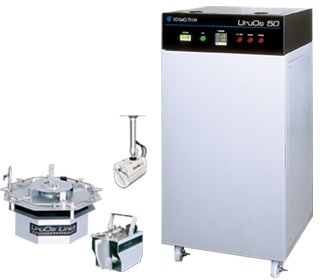 Since an air compressor is not used, it can humidify by little power consumption.
It is connected to water service and sprays water directly. Generating of mold or bacteria is barred by passing water through UV lamp (option).
Installation space is space-saving as the main unit (pump part) is "550mm×550mm".
Humidification capability is a maximum of 50L/h. Wide dimension humidification is possible. (The space up to about 1800m3 is corresponded.)
Very quiet, in order that there is no sound of operation, such as an air compressor. It excels in silence.
Flow Diagram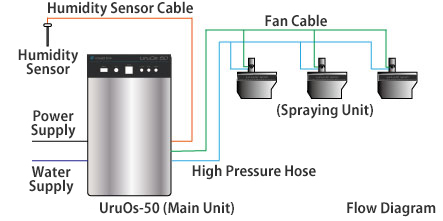 Power supply (200V) is connected to the main unit.
Water supply is connected.
High pressure hoses and fan cables are connected to spraying units.
A humidity sensor is installed at the place which needs humidification.
Specifications
Main Part
Name
High Pressure Humidification System
Model
UruOs-50
Humidification Capability
Min10L/h~Max50L/h
Humidity Display / Setting
Digital Display / Setting (0~100%)
Humidity Detection
Humidity Sensor Semiconductor Type
Control Method
Tow-step Spraying Duration Control
Protection Function
Pump Over-current
Water Supply Low Pressure
Water Supply High Temperature (40℃)
Emergency Stop Switch
Pressurized Pump
0.5kw
Option
UV Sterilization Device / Compact UV Device
Power Supply
3φ200V / Approx. 3.5A / Approx. 1.2KVA
Dimensions
W550×D550×H1085
Spraying Part
Name
Spraying Unit
Model
UruOs-UNI
Amount of Spraying
3.0L/h (1.5L/h×2) / 5.0L/h (2.5L/h ×2)
Fan Max. Air Volume
2.5/2.9m3/min
Fan Max. Static Pressure
64.8/76.5Pa
Fan Noise
37/41db
Fan Product Lifetime
Average 50,000 Hours
No. of Connection
Less than Amount of Sum Total Spraying 50L/h (Minimum 10L/h)
Connection Hose
Size: OD 8.3 (mm)  ID 1/8 (inch)
Max. Operation Pressure: 20Mpa
Min. Burst Pressure: 72Mpa
Min. Bend Radius: 15mm
Power Supply
1φ200V 140/120mA
Dimensions (mm)
W123.4×D203×H200