ULTRA ACE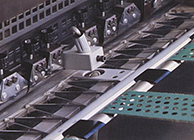 "ULTRA ACE" is an innovative double sheet-feed detector which takes advantage of the characteristics of ultrasonic. The equipment has been sold more than 5,000 units and is still gaining users confidence.
Sheet with a high transparency and films are detectable with the ULTRA ACE while the photoelectric detectors cannot detect such sheets.
Features
No adjustment required when changing sheet type
Detects cardboard, colored paper, aluminum, vinyl, film and others
No influence by colored papers or printed patterns
By an exclusive noise rejection circuit, even if the equipment is installed to any machines, operation is stabilized.
Non-contact sensor does not damage sheets
Specifications
| | |
| --- | --- |
| Name | ULTRA ACE |
| Power Supply | 1φ 100V or 1φ 200V |
| Response Velocity | 18000 Sheets/ Hour |
| Paper Thickness Range | Approx. 0.02 to 2mm |
| Power Consumption | 20VA |
| Sensors | Ultra Sonic Sensor |
| Dimensions | W252xD160xH114 (mm) |
* The paper thickness range may vary with particular paper materials.
ULTRA 300: Combination unit with double sheet-feed detector and side ray detector.