CHP-LIGHT
Applied to Small Size Format Printing Machines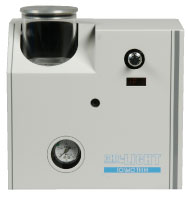 Based on the high quality of CHP series, it realized the system reflecting customers' request.
The design only for 26", 28"/29″ and 32"


With the special roller developed uniquely, a fixed quantity of powder is always supplied and a highly efficient distributor distributes powder to each nozzle equally. Therefore, the amount of spraying never varies. Since the printing machine speed-following function is carried, even if press speed changes, it is not necessary to change a setup.
Powder Spraying System/ CHP-LIGHT
Specifications
Adaptable Presses
26", 28"/29″ and 32"
Components
Main Body, Blower Pump and Nozzle Bar
Quantity Control
Amount of Powder Spraying Self-Adjustment
Powder Residual Quantity Alarm in a Cup (Buzzer)
External Communication Function
Powder Amount Setup
4 Figures of Digital Display 0~100.0 (1000-step)
Power Supply
3-Phase 200V 50/60Hz Current Approx. 2.5/2.3A
Dimensions
Main Body      285×174×301 (mm)
Blower Pump   365×160.5×188.5 (mm)
Nozzle Bar      790/870×30.5×81.4 (mm)