Powder Spraying System
With highly performance and a raise in rotation of a printing machine, quality stability and shorten delivery time serve as indispensable condition. Set-off prevention and dry acceleration also serves as important positioning. Highly efficient powder spraying system supplies necessary minimum powder to space more uniformly, and realizes printing environment of a user's ideal.
CHP-LIGHT
Applied to Small Size Format Printing Machines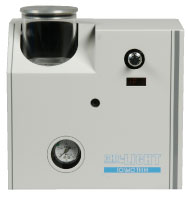 Based on the high quality of CHP series, it realized the system reflecting customers' request.
The design only for 26", 28"/29″ and 32"


With the special roller developed uniquely, a fixed quantity of powder is always supplied and a highly efficient distributor distributes powder to each nozzle equally. Therefore, the amount of spraying never varies. Since the printing machine speed-following function is carried, even if press speed changes, it is not necessary to change a setup.
Powder Spraying System/ CHP-LIGHT
Specifications
Adaptable Presses
26", 28"/29″ and 32"
Components
Main Body, Blower Pump and Nozzle Bar
Quantity Control
Amount of Powder Spraying Self-Adjustment
Powder Residual Quantity Alarm in a Cup (Buzzer)
External Communication Function
Powder Amount Setup
4 Figures of Digital Display 0~100.0 (1000-step)
Power Supply
3-Phase 200V 50/60Hz Current Approx. 2.5/2.3A
Dimensions
Main Body      285×174×301 (mm)
Blower Pump   365×160.5×188.5 (mm)
Nozzle Bar      790/870×30.5×81.4 (mm)
CHP-3 / 21
CHP-3
CHP-21
Sizable Cut of the Powder Used Amount
CHP-3/CHP-21 is powder spraying system for set-off prevention.
It is highly efficient system of the ideal designed based on the technology and know-how which were cultivated by today.
The reason for the sizable cut of the powder used amount
The amount of powder adhesion to sheet is raised 30% or more. (Compared with the conventional machine)
The well-reputed large metering roller has been further improved. Durability and precision have been much improved.
There is less over-sprayed area and superfluous powder.
Features
The amount of powder is controlled to necessity minimum by a high precision fixed-quantity function.
Spraying amount can be set by 0.1% according to users' needs.
The panel which the abundant amount of information and easy operation made compatible by the large-sized digital display.
The highly efficient distributor which distributes powder to each nozzle uniformly
The speed-following function corresponding to the velocity change of a printing machine.
The nozzle cleaning function to prevent a nozzle jam.
A spraying width is automatically changed according to the inputted sheet size. (CHP-3-8/ -10)
The system's operation and information can be comprehensively controlled on the press console. (CHP-3)
Specifications
Model
CHP-3-6/ 21-6
26 & 28"/29"
CHP-3-8/ 21-8
32" & 40"
CHP-3-10/ 21-10
44" & 50"
Power Supply
3-Phase 200V 50/ 60Hz
Current
CHP-3-6/ 21-6
Approx. 3.8/3.9A
CHP-3-8/ 21-8
Approx. 5.5/6.2A
CHP-3-10/ 21-10
Capacity
CHP-3-6/ 21-6
Approx. 1.4kVA
CHP-3-8/ 21-8
Approx. 2kVA
CHP-3-10/ 21-10
Quantity Control
Amount of Powder Spraying Self-Adjustment (Corresponding Speed 3,000~20,000 sheet/ h)
Metering Method
Speed Controlled Metering Roller
Components
Main Body, Electric Box, Nozzle Bar & Blower Pump
Dimensions
(W×D×H)
Main Body
W320×D200×H420 (mm)
Electric Box
W253×D100×H225 (mm)
Nozzle Bar
CHP-3-6/ 21-6
W790/830×D38.2×H91.8 (mm)
CHP-3-8/ 21-8
W930/1130×D38.2×H91.8 (mm)
CHP-3-10/ 21-10
W1230/1430×D38.2×H96.8 (mm)
Blower Pump
CHP-3-6/ 21-6
W467.4×D290.4×H353.9 (mm)
CHP-3-8/ 21-8
W630×D328×H342.9 (mm)
CHP-3-10/ 21-10
Integrated Communication Control・・・CHP-3-6/ CHP-3-8/ CHP-3-10
Automatic Nozzle Selector・・・CHP-3-8/ CHP-3-10