UruOs-50 Industrial High Pressure Atomizing Humidification
Features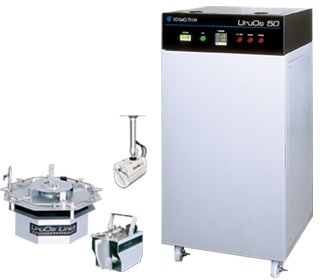 Since an air compressor is not used, it can humidify by little power consumption.
It is connected to water service and sprays water directly. Generating of mold or bacteria is barred by passing water through UV lamp (option).
Installation space is space-saving as the main unit (pump part) is "550mm×550mm".
Humidification capability is a maximum of 50L/h. Wide dimension humidification is possible. (The space up to about 1800m3 is corresponded.)
Very quiet, in order that there is no sound of operation, such as an air compressor. It excels in silence.
Flow Diagram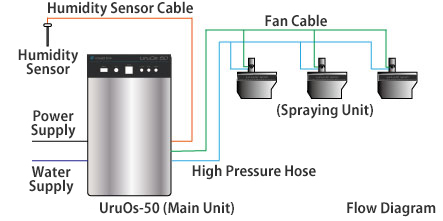 Power supply (200V) is connected to the main unit.
Water supply is connected.
High pressure hoses and fan cables are connected to spraying units.
A humidity sensor is installed at the place which needs humidification.
Specifications
Main Part
Name
High Pressure Humidification System
Model
UruOs-50
Humidification Capability
Min10L/h~Max50L/h
Humidity Display / Setting
Digital Display / Setting (0~100%)
Humidity Detection
Humidity Sensor Semiconductor Type
Control Method
Tow-step Spraying Duration Control
Protection Function
Pump Over-current
Water Supply Low Pressure
Water Supply High Temperature (40℃)
Emergency Stop Switch
Pressurized Pump
0.5kw
Option
UV Sterilization Device / Compact UV Device
Power Supply
3φ200V / Approx. 3.5A / Approx. 1.2KVA
Dimensions
W550×D550×H1085
Spraying Part
Name
Spraying Unit
Model
UruOs-UNI
Amount of Spraying
3.0L/h (1.5L/h×2) / 5.0L/h (2.5L/h ×2)
Fan Max. Air Volume
2.5/2.9m3/min
Fan Max. Static Pressure
64.8/76.5Pa
Fan Noise
37/41db
Fan Product Lifetime
Average 50,000 Hours
No. of Connection
Less than Amount of Sum Total Spraying 50L/h (Minimum 10L/h)
Connection Hose
Size: OD 8.3 (mm)  ID 1/8 (inch)
Max. Operation Pressure: 20Mpa
Min. Burst Pressure: 72Mpa
Min. Bend Radius: 15mm
Power Supply
1φ200V 140/120mA
Dimensions (mm)
W123.4×D203×H200
UruOs-50 Industrial High Pressure Atomizing Humidification with Built-in RO System
Features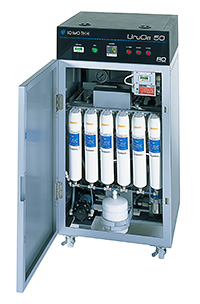 Mineral ingredient (calcium, magnesium and etc.) is in the water, and when spraying water in the air, it's separated out as mineral dust (powder). Hard water has high mineral ingredient contents, and the phenomenon is found conspicuously. Electronic parts, precision mechanical equipment, a computer room, printed paper surface coating and food industry are required special care in particular. There is also a possibility which causes a nozzle clogging by this mineral ingredient. The high pressure humidification system with built-in RO membrane filtration system can remove 99% of mineral ingredient and spray the deionized water.
Specifications
Description of Product
High Pressure Humidification System with Built-in RO System
Model
UruOs-50RO
Humidification Capacity
Min10L/h ~ Max50L/h
Humidity Indication and Setting
Digital Display and Setting (0~100%)
Humidity Detection
Semiconductor Humidity Sensor
Control Method
Two-step Spraying Duration Control
Pressurized Pump
0.5KW 50/60Hz
Sterilization Function
UV Sterilization Device (Standard Equipment)
RO System
Cartridge Type RO Filter (6 pcs)
RO Processing Capacity
Approx. 90L/h (At 25℃/ Using 6 PCS)
Approx. 56L/h (At 10℃/ Using 6 PCS)
Power Supply
3-phase 200V, Approx. 4.0A, Approx. 1.4KVA
Dimensions
W550xD550xH1085mm
*Detection and protective function are the same specification as UruOs-50.
Residual chlorine contained in tap water affects deionized water generation of RO system. Installation of an activated carbon filter is highly recommended to extend lifetime of RO filters.
Estimated Timing for Exchange of Filters
1 μ filtration filter (L500) … Every 6 Months
Activated Carbon Filter (L500) … Every 6 Months
Cartridge Type RO Filter … Once a Year (6 Filters Simultaneous Exchange)