FRIENDLY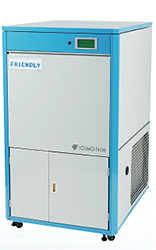 When a company works, it has forced a sometimes big duty and responsibility, and a great burden of expense although the keyword "environmental protection" is imaged with a thing required for the society and the earth of the future, and gentle to. Processing of the liquid waste generated in a production activity and recovery expense are also the one.
COSMOTECH aids the corporate activity which carries out philanthropy of the "FRIENDLY" from three sides of through, environmental protection, safety, and economical efficiency.
Amount of discharge of wastewater is reduced sharply
Conventionally, wastewater generated in a production site has been processed by requesting to an industrial waste disposal company.
The amount of wastewater in which an industrial waste disposal company takes over such a present condition is sharply reducible by introducing FRIENDLY without spending big expense.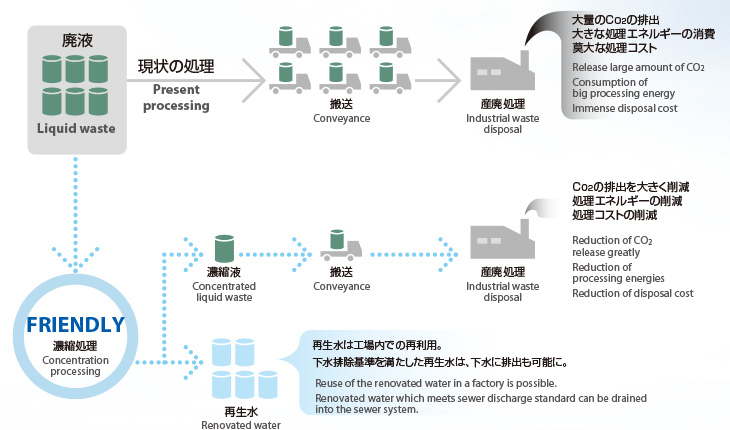 A safe and efficient processing system
As a feature of FRIENDLY, safe and efficient processing by the "reduced-pressure distillation method*" which does not use fire is possible, and unusual odor processing and generating of toxic substance by heating is also very few.
* Distillation under reduced pressure lowers boiling point of water and it makes water to be boiled at a low temperature by making pressure lower than ordinary pressure.
High Processing Ability
High concentration rate is realized and industrial waste disposal cost is reduced sharply.
Actual performance records: Water-soluble wastewater can be condensed to a maximum of 1/20.
Various water-soluble wastewater can be processed.
Processing past records: CTP developer waste, varnish washing waste, dampening solution waste, flexo washing waste, cutting oil waste, painting waste, food waste, etc.
Convenience and economical efficiency
The only required things are a little electricity and antifoam agent.
Mitigation of labor load by 24-hour continuation automatic operation.
Automatic cleaning function of the vacuum concentrating kettle.
Improvement in the operativity by a touch panel.
Compact design which doesn't choose a place of installation.
Structure of FRIENDLY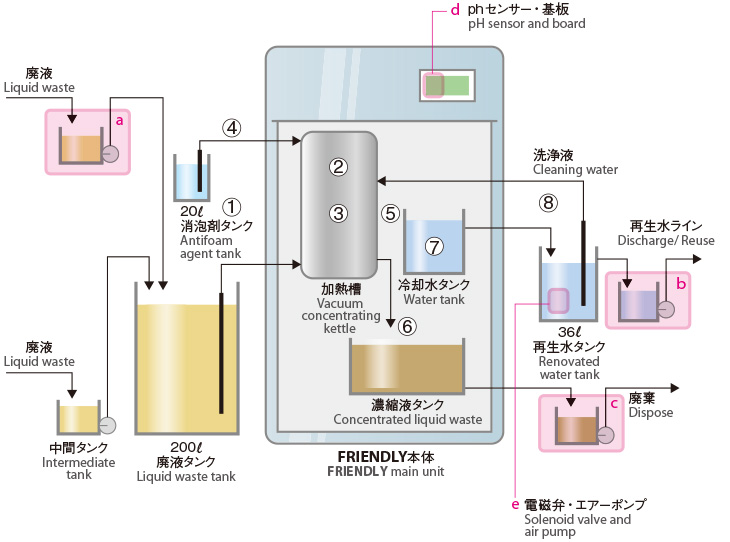 ① Wastewater is sucked into the kettle.
② Internal pressure of the kettle is decompressed.
③ The kettle is heated and boils at low temperature.
④ Antifoam agent is added in order to press down bubble generated during boiling.
⑤ Steam flows into a refrigerator. It is cooled and changes to clean water.
⑥ The concentrated wastewater remaining in the kettle is collected in the concentrated wastewater tank after going through several rounds of concentration.
⑦ Clean water is accumulated in the internal tank of the main unit then sent to the external tank.
⑧ Clean water in this external tank is sucked into the kettle during cleaning mode.
OPTION
a) Liquid waste intermediate tank
b)Renovated water intermediate tank
c)Concentrated liquid waste intermediate tank
d)Renovated water pH display
e)Renovated water pH control
In order to acquire a higher effect – Installation layout image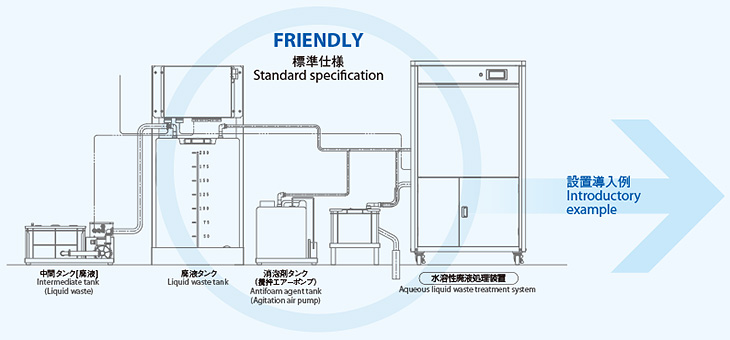 Introductory example
Automation plan
An effect of its automation is demonstrated to reduction in cost by mitigation of labor load.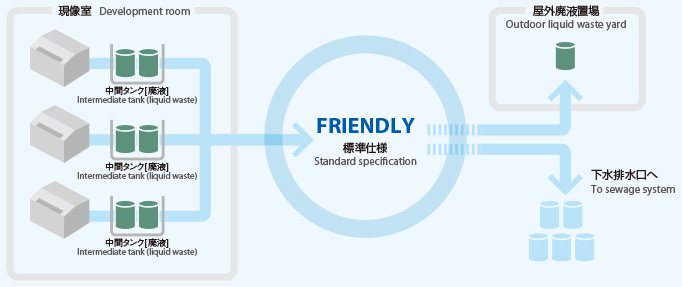 High cost-effectiveness
Reference example
Company A / CTP developer waste (Alkaline wastewater)
Days of operation for 1 month: 25 days
Days of operation for 1 year: 300 days
Discharge amount of wastewater: 100L/day
Industrial waste disposal rate: JPY75/L
Before installation
Wastewater disposed by an industrial waste disposal company
Amount of wastewater
Amount of wastewater for 1 month: 2,500L
Amount of wastewater for 1 year: 30,000L
Industrial waste disposal expense
Disposal expense for 1 month: JPY187,500
(Amount of wastewater for 1 month x disposal rate)
Disposal expense for 1 year: JPY2,250,000

After installation
FRIENDLY: CT-AQ5H
Ex) Concentration rate: 6 / Electric rate: JPY12/kwh
Amount of wastewater
Amount of wastwwater for 1 month: Approx. 428L    Approx. 1/6
Amount of wastwwater for 1 year: Approx. 5,138L    Approx. 1/6
Electric rate
Usage for 1 month: JPY13,398 (Approx. JPY536 per day)
Usage for 1 year: JPY160,772
Antifoam agent
Month's purchase: JPY8,300
Year's purchase: JPY99,600
When clean water meets environmental quality standards for sewage, it can be drained into sewage system.
Furthermore, it leads to cost mitigation of water cost by reusing.
Cost comparison
Before installation
JPY187,500/ month
JPY2,250,000/ year

After installation
JPY53,798/ month Cost difference JPY133,702/ month
JPY645,722/ year Cost difference JPY1,604,278/ year
Specifications
FRIENDLY
Heater type
Heat pump type
Heater type
Heat pump type
Model
CT-AQ5
CT-AQ5H
CT-AQ10
CT-AQ10H
Capacity
5L/h
10L/h
Power supply
3phase 200V 50/60Hz
Electric power
capacity / current
Approx. 7.2KVA /
Approx. 20.7A
Approx. 4.4KVA /
Approx. 12.7A
Approx. 10.6KVA /
Approx. 30A
Approx. 5.2KVA /
Approx. 14.9A
Process Scheme
Reduced-pressure distillation method
Target wastewater
Water-soluble wastewater
Dimension
(W×D×H)mm
700×900×1400mm
800×1000×1400mm
Product weight
Approx. 240kg (Operation weight: Approx. 280kg)
Approx. 260kg (Operation weight: Approx. 320kg)
Operation condition
Ambient air temperature: 5~35℃, Humidity: 0~60% (Non condensing)
Standard accessories
Liquid waste tank (200L)x1, Antifoam agent tank (20L)x1
Concentrated liquid waste tank (18L)x2, Renovated water tank (35.7L)x1
Liquid waste intermediate tank x1
Consumables
Antifoam agent (We recommend you to use our recommended agent.)
Options
Liquid waste intermediate tank (For additions)
Renovated water intermediate tank
Concentrated liquid waste tank
Renovated water pH display
Renovated water pH control (pH adjusting function by aeration)
* It needs to be adopted with the renovated water pH display.
Lineup of new models developed for power-saving technology
Power consumption is less than half that of conventional model

Approx. 40%
DOWN

Approx. 63%
DOWN
Dimensional drawing