TOP-ONE ECO 402PC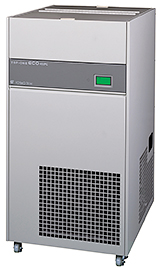 TOP-ONE ECO 402PC is the eco-friendly model that has filtration system combined in as well as enhanced functions best suited for the operation of small-size presses.
It creates high-quality and eco-friendly printing operation.

COSMOTECH consented to the environmental protection printing promotion assembly (E3PA), and this equipment has received attestation as a product corresponding to gold plus.
Features
High-quality filtration system keeping dampening water clean with no exchange water required
Powerful cooling effect with high-quality and durable low vibration refrigerator
Alcohol control, etch solution control and automatic feed water system
Easy operation with a user-friendly touch screen
Independently regulated circulating system and filtration system eliminate the need for making press off when replacing filters
Eco-friendly refrigerant gas (R407C)
Specifications
| | |
| --- | --- |
| Name | TOP-ONE ECO 402PC |
| Power Supply | 3-Phase 200V 50/ 60Hz |
| Current/ Capacity | Approx. 13A/ 4.5kVA |
| 冷却能力(50/60Hz) | 4.9/ 6.0kW |
| Refrigerant | R407C |
| Circulation Pump | 3-Phase 200V 370W 93L (Pump Head: 5m)/ 52L (Pump Head: 14m) |
| Etch Solution Control | Change-over of etch density control mode and the pH monitoring mode |
| IPA Control | alcon (Water Surface Detection) |
| Filtration Pump | 3-Phase 200V 8~23L/min |
| Filter | A+C Filter 5 PCS in Total |
| Adaptable Presses | 6 Colors 26/29″ / 6 Colors 32″ / 2 Colors or Less 40″ |