EPS Electrostatic Powder Spray

Powder adheres to sheets uniformly more efficiently in the action of Coulomb force. Humidity inside the printing machine is fed back and voltage is controlled the optimal.
Brief Overview
Powder and sheet are electrified in reverse polarity, respectively. Powder and sheet gravitate toward one another and the sticking fraction of powder improves. Moreover, the powder which had dispersed until now also adheres to sheet by electrifying the powder itself.
Negative charged powder particles are repulsive to one another and thus powder disperses more uniformly on the sheet.
Unlike the air pressure-based CHP models, EPS utilizes a brand new system based on the Coulomb force as well as air pressure, and achieve a further reduction of powder scattering and consumption.
To maximize Coulomb force's effect, EPS adjusts charged voltage according to humidity inside the printing machine.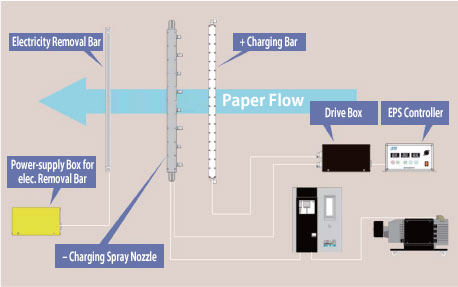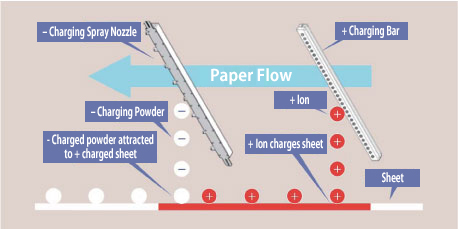 New Function
The non-contact electrification method which is sheet is electrified positively by spraying + ion.
The safe powder electrification method which electrifies the powder itself without corona discharge.
Voltage is controlled according to the humidity in a printing machine.
Features
Trouble-free in order not to contact sheet through the operation process
Since powder and sheet gravitate toward one another, powder adheres to sheet efficiently.
The amount of the powder used is reduced dramatically.
Specifications
Name
EPS
Model
EPS-6
EPS-8
EPS-10
Adaptable Press
26 " & 28"/29"
32" & 40"
44" & 50"
Components
CHP: Main Body, Electric Box, Spray Bar & Blower Pump
EPS: Controller, Drive Box, + Charging Bar & Ring Blower
Metering Method
Speed Controlled Metering Roller
Quantity Control
Amount of Powder Spraying Self-Adjustment
(Corresponding Speed 3,000 ~ 20,000 sheet/ h)
Charging Method
Positive Charging (Sheet): Spraying Positive Ion (Non-contact)
Negative Charging (Powder): Contact Charging
Power Supply
CHP: 3-Phase 200V
EPS: Single –phase 100 ~ 264V
Current
Approx. 6.8A
Approx. 8.2A
Capacity
Approx. 2.3kVA
Approx. 2.8kVA
Dimensions
CHP Main Body
320×200×420 (mm)
Electric Box
250×100×225 (mm)
Nozzle Bar
790/830×52×111 (mm)
930/1130×52×116 (mm)
1230/1410×52×121 (mm)
Blower Pump
467.4×290.4×353.9 (mm)
630×328×342.9 (mm)
EPS Controller
187×90×139 (mm)
Drive Box
380×104×240 (mm)
Charging Bar
766/814×42×54 (mm)
910/1126×42×54 (mm)
1198/1390×42×54 (mm)
Ring Blower
500×350×295.6 (mm)