ECO FILTER
Impurities and oil of nano size are thoroughly removed from dampening solution.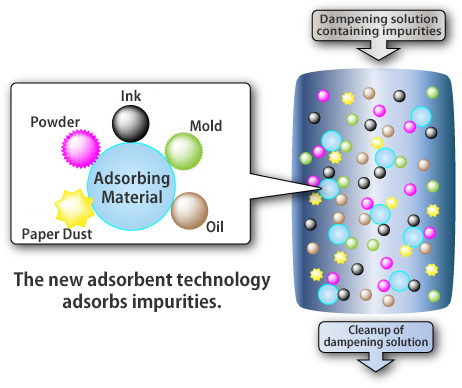 It is very important to always maintain clean dampening solution, in order to stabilize printing quality.
Although what is necessary will be just probably clean a tank frequently, time, a labor, and cost are required.
Then, easy and reasonable maintenance of dampening solution was realized. The impurities and oil which is a natural enemy of dampening water are caught thoroughly. Condition of new dampening solution is always maintained.
However, it does not adsorb the ingredient of etch solution.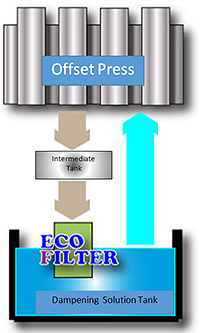 No Installation Space Needed
Dedicated case is equipped at inlet of a dampening solution recirculation system. An installation space in particular is unnecessary.
Great Cost-effectiveness
ECO FILTER is only exchanged every 1 to 2 months.
Easy Handling
Coupler which anyone can equip easily is used.