Powder Spraying System
With highly performance and a raise in rotation of a printing machine, quality stability and shorten delivery time serve as indispensable condition. Set-off prevention and dry acceleration also serves as important positioning. Highly efficient powder spraying system supplies necessary minimum powder to space more uniformly, and realizes printing environment of a user's ideal.
Product Lineup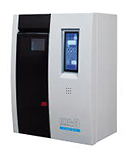 CHP-3/ CHP-21/ CHP-Light
There are selections of 3 models. The amount of powder is controlled to necessity minimum by a high precision fixed-quantity function. Spraying amount can be set by 0.1% according to users' needs.

EPS
It is an electrostatic powder spray system. Powder and sheet are electrified in reverse polarity, respectively. Powder and sheet gravitate toward one another and the sticking fraction of powder improves. Voltage is controlled according to the humidity in a printing machine.