Ink Unit Temperature Control System
As offset printing machine has a large increase in speed with the technical advantage, generation of heat by rotation of a roller also became large. The temperature change of a roller also affects ink and becomes causing change of printing quality. A roller temperature controller sends cooling water to each roller, and stabilizes the temperature of rollers.
Product Lineup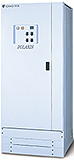 POLARIS Series
Roller temperature controller "POLARIS" is designed to stabilize temperatures of oscillator rollers and ink fountain rollers of a printing machine by circulating chilled water. According to a customer's printing machine specification, we have various product range as 1 ~ 10 cooling circuits and 7.5 kW ~ 63.0 kW of cooling capacity.